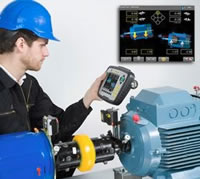 Easy-Laser® E710
The new Easy-Laser® E710 is an alignment system with functions for all the important stages of machine setup. It gives your machines the right conditions for optimal reliability and long service life. The measuring system has functions that are not offered by any other system on the market!
* Versatility — check the base flatness, vibration level and bearing play
* Bluetooth® wireless connection — enables you to work more freely
* Endurio™ Power management — for extra long operating times
* Barcode system for documentation — starts the measuring work quicker
* 2 year warranty — reassurance for you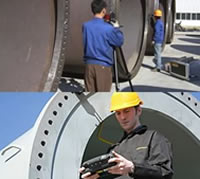 Easy-Laser® E910 / E915
Evaluate directly in true 3D
See the result as a true 3D image in the display unit directly after measuring. Then evaluate the result easily with different calculation settings, for example three point reference, best fit or all positive. This can also be done directly on site without having to stop to go to a PC with separate analysis programs, which was the case previously. This makes production much more efficient.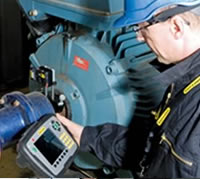 Easy-Laser® E530
Easy-Laser® E530 is a very powerful shaft alignment system, with the ideal balance between performance and price. Program that guides step-by-step with both icons and text makes the system very easy to use for everyone, regardless of prior knowledge. The measuring units are pre-mounted for rapid machine set-up. With the barcode reader the user can save many key operations where all machine dimensions, tolerances and compensation values are entered in one single operation*, and the measurement can be started directly. Start with the measuring units positioned anywhere through 360 ° around the shaft, then take any three readings down to 20° in-between. Then adjust the machine with the live-values in both horizontal and vertical directions. A PDF report is generated automatically when the measurements are saved. Simple and efficient!