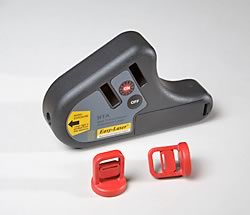 D90 BTA
For simple, quick alignment of belt drives.
The tool is fitted in a few seconds, and the laser line projected on the targets clearly shows how you need to adjust the machines.
Easy-Laser® BTA D90 has targets that are read "visually" and ensure excellent accuracy. That is enough for many users. If, in the future, you want to have a digital display and its associated benefits, you can add one of our digital detectors (see system D150 and D160) which can detect the laser line from Easy-Laser® D90 BTA.
D90 BTA is suitable for most types of drive, such as V-belt, timing belt, flat belt and chain drives. Can also be used on non-magnetic pulleys.
Typical applications:
Most belt/chain drives.