Our interactive training, 3D movies, and excellent simulation program make iLearnAlignment a very effective training system.
Shaft alignment is a tough skill to master, and unless you do it often, the procedures are difficult to remember. Now you can use iLearnAlignment to learn how to align shafts, and use it again and again when refresher training is required.
Our narrated training provides an excellent overview of the fundamentals, and then dives into greater depth in all of the key areas:
Machine train alignment.

You can view a complete list of the subjects covered here.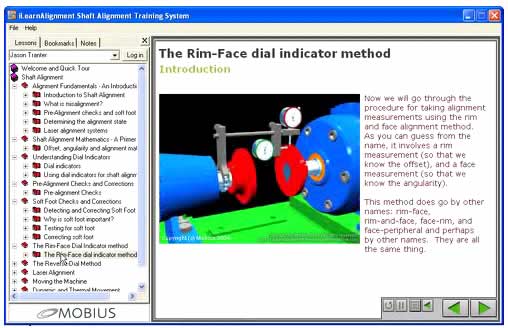 While our training covers all of the essential procedures, and is filled with valuable tips and tricks, one of the greatest benefits is that our training will help people understand misalignment. We have developed over 50 3D animations that demonstrate procedures, explain how things work, and clarify confusing concepts.
Simulations provide hands-on experience
To make sure you fully understand the fundamentals of alignment, we have created a number of simulations.
In this example, you can drag shims on to the feet of the motor (and move them sideways) to see how the alignment state changes.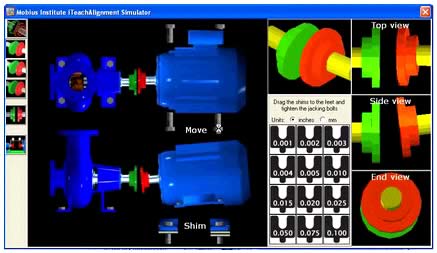 We have also provided simulators that walk you through the alignment process (using the rim and face and reverse-dial methods). You can use the simulator to become familiar with the process - and you can use it to perform real alignment calculations. The machine moves required are displayed graphically, so you can really see what is required.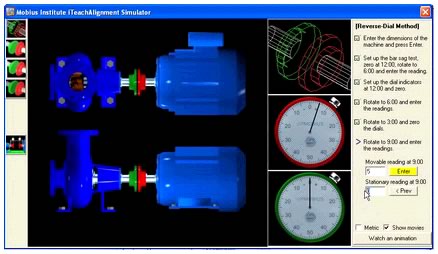 So many 3D animations!
To help explain the many technical concepts and procedures, we have created over 50 3D movies/animations that clarify even the most complex issues.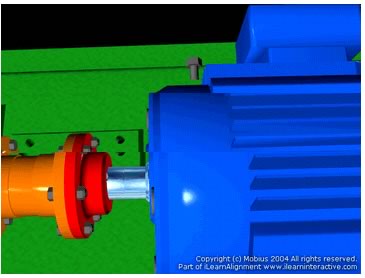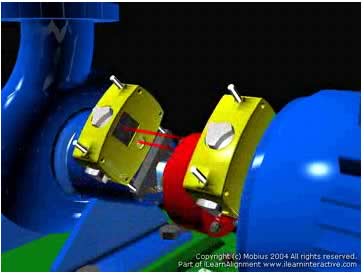 Laser alignment and dial indicator alignment
The training system also discusses laser alignment systems: how they work, their benefits, and how they are used. We cover the methods used by all of the major laser alignment companies.
We also discuss the technology and methodology used by all of the leading laser-alignment systems.
Our system can be used by the person who is brand new to alignment, and for refresher training.
Corporate Learning Management Systems
iLearnAlignment can work on a single computer or integrate with your corporate learning management system (iLearnAlignment is SCORM and AICC compliant). That means that it is easily accessible to a group of people without any computer installations required.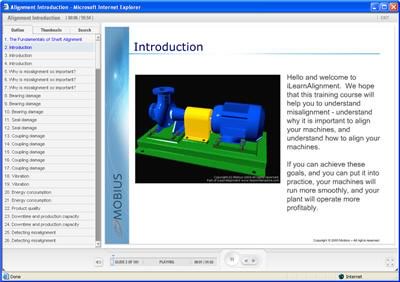 | iLearnVibration | iLearnVibration (Interpreter) | Pricing |
To ORDER or for further information, please call us at 414-218-8088 or
E-mail: jim@jlgriffin.com